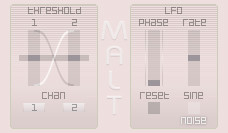 xoxos has released Malt, a freeware MIDI VST effect plug-in for Windows PC.
very simple – malt eats noteon messages on two channels. they're gated by comparators running in opposite polarities from the same lfo.

if both thresholds were at halfway, the lfo would just alternate between the two parts, you can create a mid zone which passes both channels.

two uses.. either a simple call-response use for two generated sequences, or a 2 channel random note gate if you run the lfo at a fast rate.