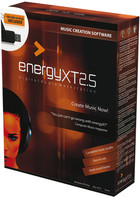 XT Software has updated version 2.6 Beta of energyXT, a cross-platform music production software.
With energyXT you will be creating tracks faster than with any other music application out there. Launch energyXT and you are ready to make tracks in a split second.
Changes in energyXT 2.6 Beta
Fixed drag & drop indicator on drum track panel.
Added option to invert mouse zoom.
Tempo track.
Fixed a bug with some plugins and render using different sample on export and audio playback.
Added speed button for zoom selection in sequencer.
Split at cursor (Ctrl + K) now also works on events in-track and in the part editor.
MIDI thru button on drum track was missing (when in Manual MIDI thru mode), now fixed.
Arpeggiator gate and shuffle was not updated in GUI when changed by CC, now fixed.
Recording automation from VST GUI now works with multiple tracks routed to the same VST.
energyXT for Windows, Mac OS X and Linux is available to purchase for €59 EUR.
More information: XT Software