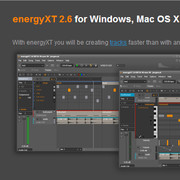 XT Software has updated energyXT, the music production software for Windows, Mac & Linux.
Create and record music fast and easy with amazing workflow. Best value-for-money music production software available.
Changes since energyXT v2.6 final
400 drum loops and 32 multi-sampled instrument from Loopmasters.
New global Tempo track.
New Half/double tempo and Random function in MIDI/Drum process menu.
You can now replace drums kit on drum tracks with new drum preset or rex file.
Added support for fractional tempo.
Drag samples from audio pool into drum sampler and sequencer.
Minor GUI improvements.
Added speed button for zoom selection in sequencer.
Added 'Disk full' warning.
Recording automation from VST GUI now works with multiple tracks routed to the same VST.
Arpeggiator gate and shuffle was not updated in GUI when changed by CC, now fixed.
Check the changelog for details.
energyXT is available to purchase for 59 EUR.
More information: energyXT