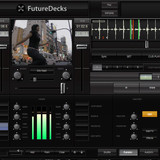 Xylio has released version 2.0 of FutureDecks Pro, a DJ mixing software for Windows and Mac.
With FutureDecks Pro you can really mix your songs, nothing else needed but your imagination.
Beat-matching is just a click away and also are seamless beat-aware loops, effects and many other things.
All these thanks to a brand new audio engine.
Changes in FutureDeck Pro v2.0
High-quality time-stretching (you need to activate it from the cfg window – requires intensive CPU resources).
Pitch scaling/transpose (independent of tempo/speed) – used for harmonic/key mixing (use the FutureDecks tag editor to assign key values to songs that don't have the key already set).
Whole song audio stripe/waveform on position slider.
Added Mix-In/Mix-Out (CUE In/Out) points used by AutoMix (can be edited just like regular cue points).
Auto CUE In/Out (automatically detecting mix-in and mix-out points for the AutoMix feature if they are not present).
Improved BPM detection and beat-matching (sync).
Import the whole iTunes library or only distinct playlists (works with both normal and smart lists).
Skin Designer application (released for Windows only at this time).
Video window remembers position/screen and fullscreen mode.
Hide mouse cursor when video is full-screen.
Settings rework (all XML now).
Cleaned up DirectX, fixed quality (as good as in OpenGL now), fixed aspect ratio when in full-screen.
High-quality video setting for both DirectX and OpenGL (consumes more resources if activated).
Better detection of external controllers.
Browsing and loading songs directly from the controller for all Hercules controllers.
New hardware controllers supported: Hercules DJ Control MP3 e2, Reloop Digital Jockey – IE2 (partial support).
Changed loop controls name ("In" is now "In/Out" and "Out" is now "Exit"); the functionality remains the same.
Automatically pausing the track when reaching end.
Increased tempo/speed maximum range to +/-50%.
A lot of small bugs and critical errors fixed, much more stable.
Speed improvements.
FutureDeck Pro v2.0 is available to purchase for $99 / €79 / £59. The upgrade is free for those who purchased v1.x after August 1, 2009.
More information: Xylio