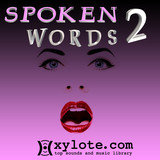 Xylote.com has released Spoken Words 2, a sample library featuring over 4,000 sounds.
Comparing to the first edition, "Spoken Words 2" is improved with 21 new Voice-FX Sets (robots, walky talky, telephone, psycho, monsters and more) for a total of 22 Voice-FX Sets to choose from, that definitely makes it more elastic to multimedia projects. Each Voice-FX Set is structured into 6 folders for easier use and includes 184 words, for a total of 4048 crystal clear sounds.

The freshly created Voice-FX Sets that you'll find in the sample pack are an inspiring tool for music producers, game developers, web designer, film makers and general multimedia products.
Spoken Words 2 features
22 Voice-FX Sets, total of 4,048 samples (623MB).
Voice-FX Sets: Central Station, Darth Voice, Dirty Talk, Electric Bose, Low Pitch, Machine Vox 1, Machine Vox 2, Monster Voice, Natural Voice, Psycho, Rabbit, Robomutant, Robot Alien, Robot Hybrid, Robot Sam, Robot Scott, Space Shuttle, Space Talk, Space Warriors, Telephone, Tube, Walky Talky.
Formats: WAV / AIF.
Spoken Words 2 is available to purchase as a download for 69 Xylote.com credits.
More information: Xylote.com