Yamaha has introduced the new reface Mobile Mini Keyboards, portable yet powerful sounding keyboards that descend from a distinguished pedigree.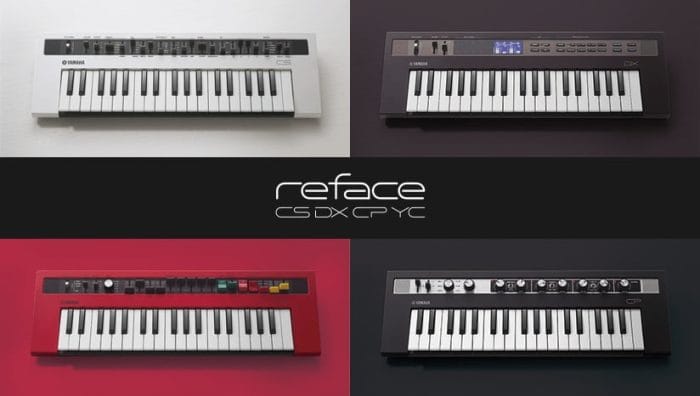 Why should guitarists have all the fun playing outdoors or anytime inspiration strikes? Even for beginners, these boards are fun to play because there are no deep, complicated control panels to learn: turning knobs and sliding faders brings an instant change in sound and players are able to create their own tones for a fun, tactile experience.

Building on Yamaha's 40-year heritage of creating some of the most heralded and renowned electronic keyboards in music history, reface reimagines the interface of four classic Yamaha instruments – some of which are difficult to find in the vintage market and weigh too much to carry around. The new series offers thick, booming sound, built-in speakers, 37 keys with professional-grade HQ-Mini action (derived from the flagship Motif XF professional synthesizer) and battery-powered portability for making music on the go. But more than mere travel companions, these versatile keyboards connect with external speakers, smartphones, tablets, MIDI devices and computers for use on stage and in the studio.

reface DX draws its inspiration from the iconic DX7, which debuted in 1983 and became the first commercially successful electronic keyboard used extensively by a multitude of bands throughout the decade and beyond, including Toto ("Africa"), the Doobie Brothers ("What a Fool Believes") and the theme from "Beverly Hills Cop" (Axel F"). With the press of a button, the reface DX changes from retro-80s tones to cutting-edge modern sounds perfect for EDM. A new Multi-Touch Control interface makes it easy to customize your sound with the powerful FM (frequency modulation) synthesis engine. The instrument includes 8-note polyphony, 32 Voice Memories and a backlit display.

reface YC reimagines the YC Yamaha Combo organs, introduced in the late 1960s and used by Pink Floyd, Tangerine Dream and others. The YC offers all the expression of drawbars, rotary speaker, percussion and effects. It includes five retro organ sounds—ranging from tonewheel to transistor to the original Yamaha Combo organ—and 128-note polyphony.

reface CP redesigns the Combo Piano, launched in 1975 and ubiquitous on stages during that era. The sound enhanced the work of Keane, U2, Genesis, Billy Joel and more. The CP model features six electric piano sounds including tine, reed, clav, toy and CP80 plus direct control of six different 1970s-style effects built into its retro-chic design. It also includes a sustain pedal input with a half-damper response and 128-note polyphony.

reface CS rekindles the legacy of the CS-series Control Synthesizers, introduced in 1976 and played by Vangelis, Stevie Wonder and Michael Jackson, among others. Offering 8-note polyphony, reface CS uses virtual analog synth technology and five flexible oscillator modules to create a wide variety of complex sounds from analog to digital.

reface features a "one to one" control scheme, meaning the panel controls perfectly match the tone generator for direct sound creation and musical inspiration.

"reface offers high-quality touch, tone, interface and superior design at an affordable price," said Nate Tschetter, marketing manager, Music Production, Yamaha Corporation of America. "These inspiring, horizon-expanding instruments are fun to play and let keyboard players take their music anywhere."
The reface YC, CP, CS and DX mobile mini keyboards will ship in September 2015, priced at MSRP $799 USD.