Yamaha has announced SampleRobot Pro Montage Edition, a sampling software solution by SKYLIFE that allows automatic sampling from any acoustic or electronic instrument.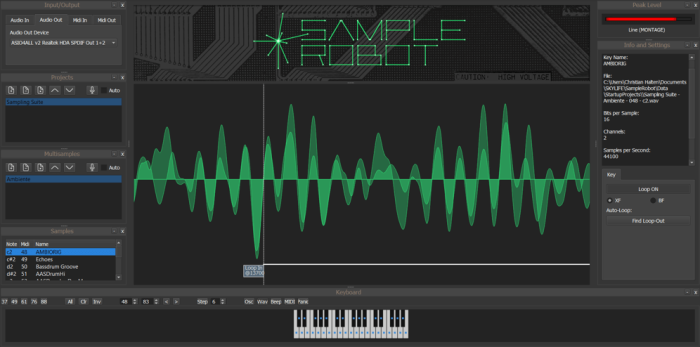 All sound nuances are captured automatically and a high-quality, ready-to-play MONTAGE Performance is created in minutes.

Seamlessly integrated WaveRobot software finds perfect loop points even for whole multi-samples with different velocity layers during recording. It was never easier to build professional-sounding emulations for MONTAGE.
SampleRobot Pro Montage Edition will be available in April, 2018. It will be free for all Montage owners.
Also announced at the NAMM 2018 Show is the John Melas MONTAGE Performance Editor and Librarian software for Windows and Mac.
John Melas is known for creating powerful and straightforward editor and librarians for the MOTIF, MOXF, MX and DTX series. This tradition continues with the MONTAGE Performance Editor and Total Librarian.

MONTAGE Total Librarian allows easy Performance organization and rearrangement for customized collections. An easy to use explorer-like interface makes renaming Performances, changing categories and subcategories and launching the Performance a breeze.
The Performance Editor is available now; the Librarian will be available mid-February.
Furthermore, Yamaha has announced it will release MONTAGE OS v2.0 on February 7th. The update for the Montage music synthesizer includes MOTIF XS, MOTIF XF and MOXF Performance import, 99 new preset Performances, control enhancements, and various workflow improvements.
More information: Yamaha