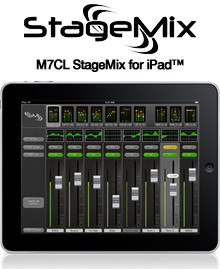 Yamaha has released the M7CL StageMix, an iPad app for controlling the M7CL digital mixing console.
StageMix provides remote control of M7CL functions via a simple, intuitive graphical interface from anywhere within wireless range. The software has been specifically designed to allow engineers to adjust monitor mixes from the performers' positions on stage, directly controlling mix parameters via the iPad rather than having to rely on verbal directions to a second engineer.

The result is better mixes in less time: a huge advantage during high-pressure pre-show setup. StageMix does not provide remote control of all M7CL parameters, but is focused on the requirements for adjusting monitor mixes on stage.
The M7CL StageMix is available as a free download from the iTunes App Store.
More information: Yamaha / M7CL StageMix