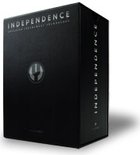 Since December 8th the first BOX versions and upgrades of Independence are shipping.
Independence features more than 18GB premium instruments.
Already with the first copies also the free Independence Add-Ons volume 01 is available as download in the yellow tools user area for all registered users. It contains 320 new audio samples for 7 additional electronic drum kits and several additional electronic drums elements.
Also available is the first update to Independence 1.0.1 for Mac OS X and Windows XP. This update contains extensions of the Performance Mode and of the Audio Import functionality. The update is recommended to all Independence users.
Check Yellow Tools for more information.