Yonac has released Kaspar, a new multi-engine synthesizer featuring extensive MIDI capabilities, Inter-App Audio, and Audiobus. It also works as an Audio Unit plugin.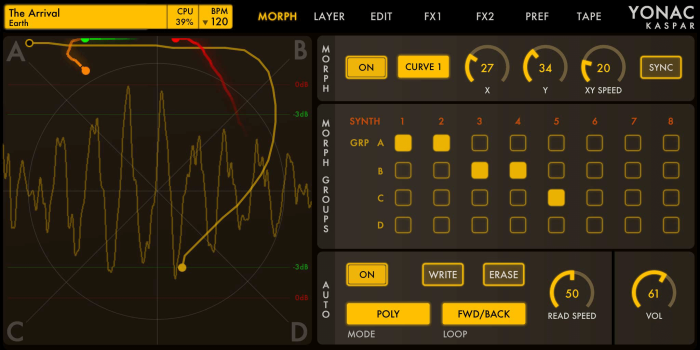 KASPAR is built on our latest Multi-Engine Automorphing SuperSynthesis (MASS) technology, and comes with superior quality stereo Yonac effects. It incorporates eight fully-featured, polyphonic synth engines that altogether are capable of up to 96 note polyphony.

KASPAR's enormous potential as a synth powerhouse is brought home by easy-to-use and powerful layering capabilities, as well as an innovative morphing/automorphing system that allows you to combine, switch or morph diverse synthesizer sounds in real time.

With a total of 24 oscillators, 8 arps, extensive modulation capabilities, dual FX busses, and many more advanced features, KASPAR is an enormously powerful synth that will certainly add to your arsenal of quality musical tools.
Kaspar is on sale for a limited time intro price of $9.99 USD (50% off regular).