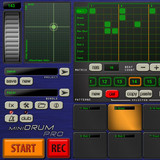 Yonac Software has released miniDrum PRO, a professional drum machine/sequencer specially designed for the iPad.
Built on our acclaimed YASSE sound synthesis & sequencing engine, miniDrum PRO offers you a design that carefully combines power with usability. With 40 amazing sound bundles covering every tonal territory, a hassle-free step sequencer and extensive editing capabilities, miniDrum PRO is a consummate beat monster.

Providing 16-channel polyphony, miniDrum PRO has at its heart a multi-resolution 8-track step sequencer with complete note-wise control for pitch, velocity, panning and lag. miniDrum PRO also allows you to record and edit your performances via its zero-latency trigger pad array and event-based capture: using a clever algorithm, your playing is tabulated and "snapped into beat" for complete editing control.

Better yet, miniDrum PRO has no limit to the number of measures in a project or recording, and each measure is individually configurable for beat and repeat counts.

For even more sonic excitation, miniDrum PRO comes packed with many custom-developed sound FX, all in stereo with individually adjustable channels. Just to give you an idea: latest incarnation of our "Vincent" filter with triple pass modes, a brand-new tube-tone overdrive unit, a bitcrusher with integrated frequency control, a lusciously rich flanger/chorus with 4-parameter control and more….

Among other features, miniDrum PRO includes a no-hassle Drag-N-Drop bundle editor to create & save your own instrument bundles. Add to that a fully-configurable control matrix, bounce-to-audio feature for easy incorporation into recording projects, multiple file transfer options, a clever "Humanizer" module for automatically adding variation, and much more, and miniDrum PRO is a powerful tool for the stage, studio or practice.
miniDrum PRO is available to purchase from the iTunes App Store for $9.99 USD.
More information: Yonac Software / miniDrum PRO