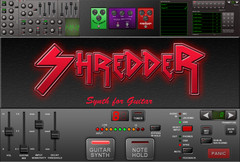 Yonac Software has announced the release of Shredder, the first professional iOS synthesizer designed for the guitar.
SHREDDER is a synthesizer/MIDI interface specially designed and developed for guitar players. It allows guitarists to play a true analogmodeling synth by simply plugging in – no special pickups needed! SHEDDER's synth engine is a powerful, fully configurable FM/Subtractive design including:

Dual oscillators
Three custom-designed filters
Three dedicated envelopes
Dual LFOs
Many more sonic features to empower the musician!

In addition, SHREDDER can also be used as a MIDI Out interface to control other Virtual MIDI compatible iOS devices, or hardware synths through a physical connection.

"SHREDDER is an amazing breakthrough for guitarists and all musicians," says SHREDDER engineer and guitar veteran, James Yonac. "Now guitarists can get amazing synth sounds from their guitars without a special synth pickup and for a small fraction of the price of a hardware guitar synth." SHREDDER reads guitar input through popular iPad guitar jack interfaces or from the iPad's built in microphone.
Shredder for iOS is available to purchase in the App Store for the introductory price of $5.99 USD until January 14, 2012 (regular $14.99 USD).