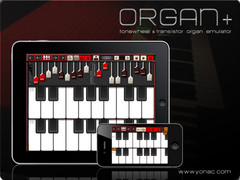 Yonac has released version 1.1 of Organ+, a virtual organ app for iOS.
Organ+ comes with 7 different organ engines that faithfully recreate the sounds of celebrated transistor and tonewheel organs. The sweet FX stack –with dual chorus/vibrato, vintage-y reverb, overdrive and more– lets you create ample variation, and hone in on *that* sound. Organ+'s two manuals are individually adjustable with 9 drawbars each, giving you distinct tones that improve phrasing and effect. You can even set organ key clicks and "percussion"!
Changes in Organ+ v1.1
Added USB Midi support for M-Audio KeyStudio 25, and related Midi controllers.
Fixed the "dead key" bug.
Vastly improved response, and reduced latency to near 0.
Graceful handling of app session interruptions.
A more robust audio output engine.
Organ+ is available to purchase from the iTunes App Store for $2.99 USD.
More information: Yonac Software