Yoshinosuke Horiuchi has announced the release of the SC-808, an emulation of Roland's TR-808 built on the SuperCollider platform for audio synthesis and algorithmic composition.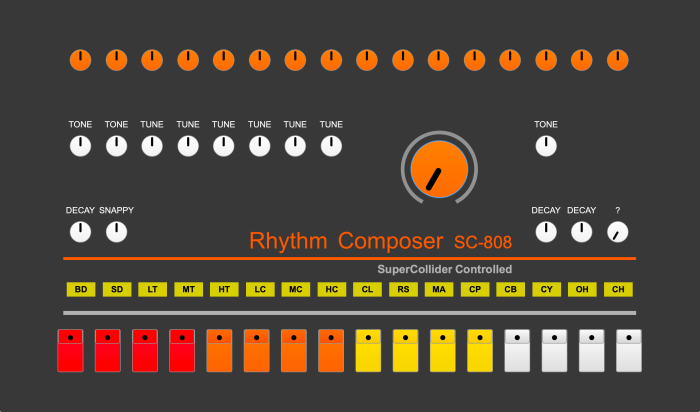 Users can make modifications to create a custom 808. It comes with some examples with tutorials for beginners.
SC-808 is running on SuperCollider which is for sound programming and composition for composers, sound designers, and researchers and is used a programming language called sclang to coding.

This 808 is not a sample-bases, is synthesized, and emulates the sound (not strict modeling) based on the original circuit. Therefore, you can modify the code and the sound easily and flexibility.
SC-808 features
Running on SuperCollider.
Support DAW connectivity.
MIDI – all sounds are controlled by MIDI and Control Change (and GUI).
Modify and Customize ALL Easily.
Support the Live Coding Performance.
Cross-Platform – macOS, Windows, and Linux.
SC-808 is available to download for free from Yoshinosuke Horiuchi's Patreon page.
Scheduled for release by the end of August, SC-808 Advanced will include separate outputs, multiple filters (Moog, 303, HPF), retune of cymbal, hihat and cowbell, and long decays and adjustable decay for the tom and conga. It will be available to $29 USD tier patrons.
More information: Yoshinosuke Horiuchi