Youlean has released an update to the Youlean Loudness Meter, bringing some requested features and bug fixes.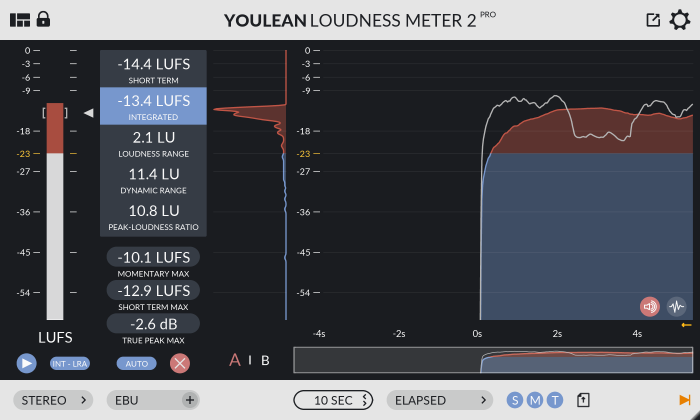 Version 2.3.0 includes a critical fix of a bug from the V1 release that might crash the plugin if you use 5.1 surround channel configuration.
Youlean Loudness Meter helps you find the true perceived loudness of your audio and prepares it for TV or streaming services release.

Join the thousands of recording studios that already use it.
Changes in Youlean Loudness Meter v2.3.0
Audio is now always passed for all connected channels.
Added option to add a custom logo to exported files.
Added a file selector button for quick analysis.
Added Amazon Alexa and Amazon Music preset.
Added tooltip info bar.
Added support for 7.1 surround and 7.1.2 Dolby Atmos.
Added true peak clipping channel indicator.
Added an option to invert time code for Elapsed and Continuous histogram mode.
Added AAX Audio Suite analyze button.
Added back support for 32-bit on macOS.
Time coding info is now inverted by default for Elapsed and Continuous histogram mode.
Time coding info is now always inverted after drag and drop.
Application will not start with paused measurements by default anymore.
Fixed macOS installer not showing all information if the dark theme is selected for the OS.
Fixed drag and drop has a wrong start in the Time Code mode.
Fixed drag and drop not working in some DAWs like Cubase.
Fixed GUI glitches with drag and drop in some DAWs.
Fixed spike at dynamics graph start.
Fixed crash when working with 5.1 surround channels.
Improved general stability.
Small UI, UX improvements.
Youlean Loudness Meter is free to download for Windows and macOS in VST/VST3, AU and AAX plugin formats. The Pro version comes with extended features and is priced at $47 USD.
More information: Youlean