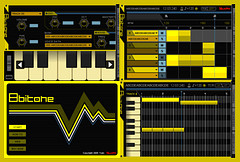 Yudo has announced 8Bitone, a retro 8-bit synthesizer + sequencer application for the iPhone/iPod Touch.
8Bitone is Synthesizer and Sequencer application to simulate sounds for 8bit Personal Computer and Console Game Generator from the 80`s.

PSG and SSG vintage voices are revived here and their nostalgic electric sounds are able to be simulated with iPhone/iPodTouch.
8Bitone will be available from the iTunes App Store in June 2009.
Visit Yudo for more information.