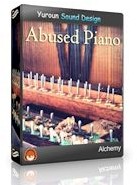 Yuroun has announced the release of Abused Piano, a sound library featuring a set of 50 atmospheres, textures, drones, pads, loops and sound effects for Alchemy by Camel Audio.
All based on a recording session May 2012 where a friend abused his old piano. Samples where tortured with several sound design tools, to create beautiful rich pads, musical soundscapes, freaky effects and ambient loops.

Use the remix pad and tweak knobs to find sounds that inspire you, or just fit well into your mix. Abused Piano includes 255 MB of specially created new sample content.
The soundset costs 8.30 EUR. Requires Alchemy full version.
More information: Yuroun