Zaplin Music has announced the release of a free version of its music app Triqtraq – Jam Sequencer.
Triqtraq LE is a great first encounter with Triqtraq for anyone who wants to make electronic music on the go.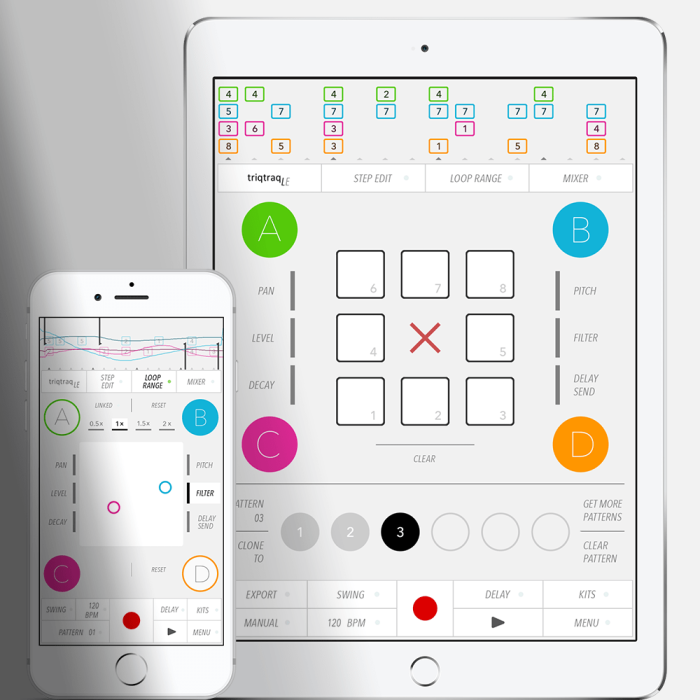 The one-window interface provides a fast and fun workflow, while advanced sequencing possibilities allow for endless sonic exploration.
Triqtraq LE features 4 Channels, 6 recordable Patterns and comes with 16 Sound Kits in the categories Drum, Percussion, Bass and Keys. These sounds can be manipulated in real-time with recordable effect sliders for parameters like Pitch, Filter and Delay.
The Loop Range feature makes it possible to set different lengths and speeds per note sequence or effect automation. This allows for 4 bar Patterns that constantly change over time.
Triqtraq LE features
Four Channels, each containing 8 Sample Pads.
6 Patterns per Session.
Step Editor.
Recordable Automation.
Pitch, Filter, Delay, Pan, Level and Decay per Channel.
Loop Range: individual track and automation lengths.
Loop Speed: individual speed per track or automation.
Multi-selection and recording.
Real-time switching between patterns.
Automatable BPM and Swing.
Sound library with 16 Sound Kits.
Audiobus support.
Ableton Link support.
Export to SoundCloud, E-mail or iTunes.
Triqtraq LE is free and available for a limited time on the iOS App Store.
The paid version of Triqtraq – Jam Sequencer comes with 16 Patterns, a Pattern arranger, in-app sampling, sample import and User Kits. It also features Ableton Live Export and a free license for Ableton Live 10 Lite.
Triqtraq – Jam Sequencer is available on the App Store for $6.99 USD / 7.99 EUR / £6.99 GBP.
More information: Triqtraq