zenAud.io has launched a Black Friday Sale, offering its ALK2 arranged-live-looping DAW for only 99 EUR through Monday 26th.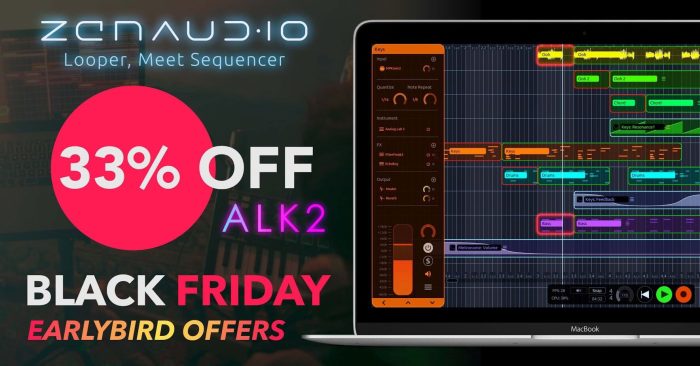 ALK2 was released on the Mac platform earlier this year to much appraise, including a number of awards and nominations. For the first time, musicians can control what gets looped, and when — all within the familiar DAW timeline paradigm.

During a gig, ALK2 follows your rehearsed arrangement, pressing the necessary virtual pedals to arm channels, trigger effects, record and play loops at the right time — allowing the musician to focus on the performance, rather than on a pedal.
zenAud.io ALK2 runs on macOS 10.10 (Yosemite) or higher, on any Mac. A PC version is scheduled for release early next year.
The offer also allows upgrades from ALK2 Solo to ALK2 for 60 EUR.
More information: zenAudio.io