zenAud.io has announced the release of an updated version of its DAW software looper that knows your arrangement.
ALK2 comes with a completely redesigned track mixer, updated plugin handling and an abundance of UI and technical improvements.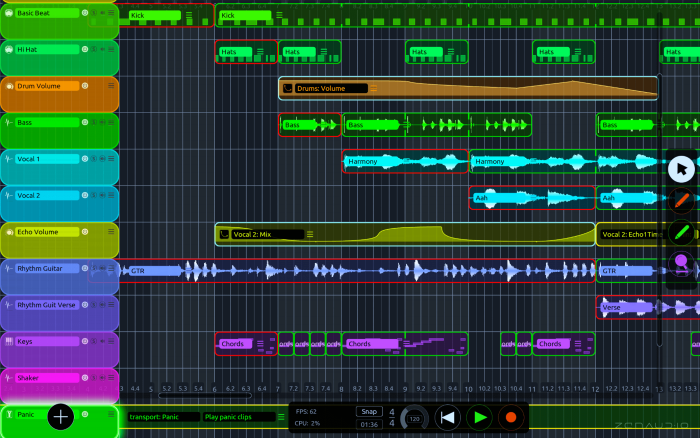 Key features include support for sequenced audio and MIDI looping, with graceful recovery from user mistakes using Panic Clips, which trigger a pristine version of the currently-recorded loop.
ALK2 is a cross between a sequencer and a looper. Like a traditional looper, clips are performed live and subsequently looped to create layers of sound. Like in a sequencer, the loops can be drawn, moved, copied, cut and pasted in a musical arrangement.

When it's time to perform the song, ALK will follow your arrangement, pressing the necessary virtual pedals to arm channels, trigger effects, and record and play loops at the right time.

Freeing you to do what you do best: perform.
While MIDI quantization and note repeat are included, ALK2 is also a fully fledged VST/AU plugin host, allowing use of effects and software synths. With a view towards live performance workflows, hardware automation assignments are themselves sequenceable using the same editing tools as regular loops.
The software comes with myriad user experience innovations, such as Hover Auditioning, which allows track monitoring simply by moving the mouse over the track in question, as well as support for expressive and intuitive trackpad gestures such as pinch, rotate, and swipe.
ALK2 for macOS Yosemite (10.10) or higher is available for the intro price of 159 EUR for a limited time (regular 199 EUR).
More information: zenAud.io