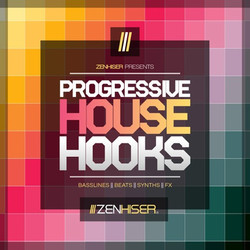 Zenhiser has announced Progressive House Hooks and Trance Drums, two new sample libraries.
Supercharged from the word go 'Progressive House Hooks' is our most euphoric progressive house pack with drops like no other. Crammed full of 380 inspirational loops this sample pack is the key to melodic heaven. 'Progressive House Hooks' really does rock and as the name suggests it is Progressive House Heaven, there is nothing like it out there.

Crammed full of amazing hooks we reckon with this sample pack you won't be running out of ideas for a long long time, and as everything is separated into it's own folders you can choose just how much or as little you wish to use. Love a bassline and drum beat of one hook but want to put your own spin on the top line, no problem, just use the progressive house samples of your choice. Think a synth loop rocks and want to add it to your already in production track, once again 'Progressive House Hooks' is here to save the day!

Thought you had the right Trance drums, think again. Zenhiser is blasting it's way through the Trance genre with some of the most inspiring packs out there so just wait till you hear this monster! 'Trance Drums' as it's name suggests is your one stop shop for everything drums, drum beats, kicks, hats, snares, claps, everything you need to either create amazing drum tracks. This sample pack really is the pinnacle of trance drum sounds, it's crammed full of kicks that drive and pop, hi hats that cut the frequencies in your mix perfectly, snares that slap hard and claps that really snap. The beats are friggin awesome as well, with 3 variations per beat, basic, full loop and no kick, giving you the perfect alternatives for your mixes. We've also made sure all the beats are 128bpm, perfect for today's Trance, Progressive House, Progressive Trance and much more.

With 180 beats and 100 trance drum sounds 'Trance Drums' really packs a huge punch so check out the specs of these 24bit goodies and get ready to purchase your pack today, you'll be a very happy Trance Bunny!
Progressive House Hooks is available to purchase for $35 AUD, Trance Drums costs $30 AUD.
More information: Zenhiser