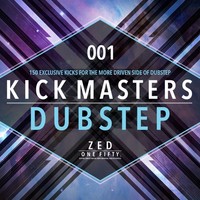 Zenhiser has announced Kick Masters Dubstep, a collection of 150 dubstep kicks from its new sub label Zed 150.
Get ready for an all out assault because 'Kick Masters Dubstep' is going to blow away your kick drum collection. You might as well banish your current dubstep kicks to that old folder on your computer cos once you've tried these bad boys you're not going to want to use anything else.

Kick Masters is our new range of drum sounds and what better way to let everyone know it's here than with 150 turbo primed dubstep kicks that slam so hard the quality of your tracks will be taken to a new level. We've supplied every dubstep kick drum in both mono and stereo versions, we are well aware that the traditionalist will prefer their kicks in mono and the more progressive producer more likely to use the stereo version.

As with all Zed 150 kicks even though the stereo versions of the kick are true stereo the main body of the kick drum sits in the centre position so what you are getting is a kick that uses all it's power in the mono position but adds some extra wonder in the stereo field.
The sample pack costs $25 AUD.
More information: Zenhiser / Kick Masters Dubstep