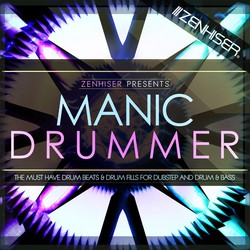 Zenhiser has announced the release of Manic Drummer and Huge Trap Drums, two new sample libraries.
Manic Drummer features 480 drum loops, beats & drum fills for breaks, dubstep and drum & bass.
Need a live drummer that can go absolutely mental? Do you make Breaks, Dubstep, Drumstep or Drum & Bass? Well if you've answered yes then we have just made your dreams come true, we locked up one of our drum producers, filled him full of Red Bull and other synthetics & what he delivered is an outstanding collection of full on live drum loops, processed to f*ck beats and a huge array of drum fills that will make any track sound awesome.

Totalling 480 beats and drum fills this is a one stop shop for all your live drums. There's two different bpm's of live drum beats & fills, 140bpm & 174bpm which means all the genre's that need this type of funky ass drummer madness are covered, Drumstep, Dubstep, Hardcore Breaks, Drum & Bass and just about every sub genre in between.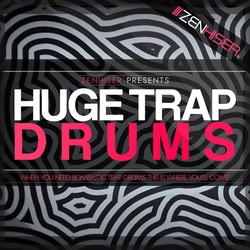 Huge Trap Drums includes 80 Trap beats and 110 Trap drum sounds.
Zenhiser presents 'Huge Trap Drums', another monster in the Trap drum sound and drum beat arena. From speaker thudding kicks and 808 hat heaven to stacked claps and dance floor attacking snares Huge Trap Drums throws up nearly 320mb of pure Traptastic madness.

This sample pack comes loaded with trap drum sounds, enough to obliterate your next ten tracks and if you're not feeling particularly inspirational there's a huge chunk of 180 beats to choose from. Huge Trap Drums is not designed for your laid back groove, it's pushy full on Trap that it's designed for.
The Manic Drummer pack costs $30 AUD, Huge Trap Drums is $25 AUD.
More information: Zenhiser