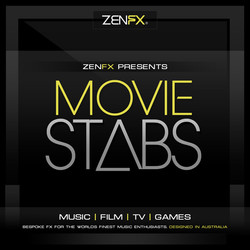 Zenhiser has launched Movie Stabs, the collection of movie stabs sound fx.
It took us months in the studio to create this pack and boy was it worth the wait, 302 perfectly created movie stabs, cinematic brass stab fx, commercial horns, blockbuster impacts, sci fi punch sounds and a whole lot more. We covered a multitude of options, genre styles and anticipation situations to offer an array of movie stab fx sounds never heard before. They cover everything from Sci Fi through to Horror movies and even an eclectic collection that would suit music productions perfectly.

Movie Stabs squeezes in at just over 1.07GB of authentic movie sounds and with a sample pack this dedicated to just movie stabs makes this fx pack an absolute winner for all types of producers, remixers, film score artists, game fx teams and everyone in between. The quality of every fx sound is second to none, we created these sounds using field recordings, hardware and software then manipulated and altered the sounds continually creating an exquisite array of movie stabs in 24 bit 96khz wav file format.
The Movie Stabs pack costs $75 AUD.
More information: Zenhiser / Movie Stabs