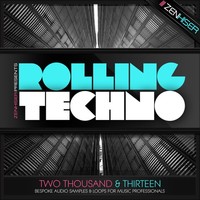 Zenhiser has announced Rolling Techno, a sample pack for techno music production.
Ready to get deep, funky and twisted, well today we're rolling out probably one of the coolest techno packs to date. Rolling Techno is as the name suggests, a fusion of yesteryear and today's upfront sound of Techno, it's as funky as hell whilst still driving enough to make even the most dedicated techno head smile. Crammed full of everything Techno this sample pack has the ability o create an arsenal of fresh techno tracks which will all swing like a motherf*cker and rumble all speaker stacks.

So what's in this monster, well check this out, there's techno beats, techno basslines, hits, techno percussion loops, sequences, techno synth loops and top loops, it's an all out Techno assault! Never have we supplied so much techno goodness crammed into one sample pack which leaves us to happily say "If you're into Techno and you love your samples then this is the pack for you, period."
The sample pack costs $25 AUD.
More information: Zenhiser