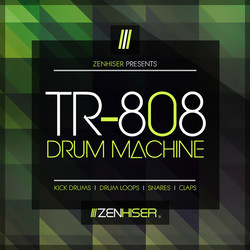 Zenhiser has launched TR-808 The Drum Machine, a sample pack featuring a collection of 1,437 sound and beats from the TR-808 drum machine by Roland.
Authentic Roland TR-808's in perfect condition have become harder and harder to find year on year so here at Zenhiser we decided it was time to sample the hell out of a perfect condition TR 808, then run it through some awesome analogue gear and deliver a pinnacle pack of TR-808 drum sounds plus a superbly programmed array of drum loops that have spanned the 808 decades. We really went to town with the drum sampling of this 808 drum machine, developing new techniques of takes with altering decay and tone times to give you the music producer as much control as if you actually owned this awesome drum machine. Every preset has been sampled to perfection and quickly folder'd for ease of use so all you need to do is assign the drum samples to your DAW or sampler and voila, you have an authentic Roland TR-808 right there in your studio, ready to use and abuse!

To make the package even sweeter we spent hours creating similar versions of authentic drum beats from the decades ranging in bpm from 88 to 170, over 560 drum loops in total, now that's a huge library of drum loops any producer in EDM or retro freak can not refuse. Just have a look at the specs below to see how comprehensive this drum machine pack really is, and as far as we know there is no other 808 sample pack this dedicated, detailed and comprehensive anywhere in the world.
The sample pack costs $35 AUD.
More information: Zenhiser / TR-808 The Drum Machine