Zenhiser has announced the release of three new sample packs in the Ultra Distortion series.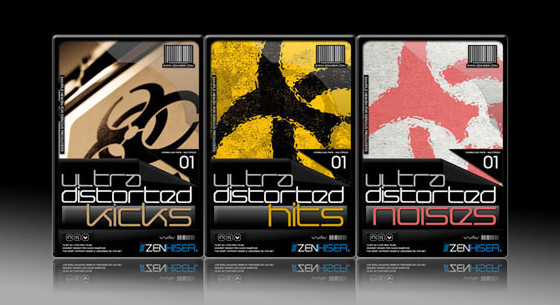 New Ultra series sample packs
Ultra Distorted Kicks is a secret weapon for all producers, remixers or just about anyone involved in music. It's so nice to offer a killer new selection of heavy kicks and distorted bass drums that simply have not been heard before. With moderate variations of this kick collection, finding the right distorted kick is never a problem. Progressing it's way through multi genres, Ultra Distorted Kicks lends it's thumping bottom end to breaks, dnb, techno, rave, glitch, trance, progressive and more. We're sure your sampler will hug you back once it's got these distorted kicks in it's memory, so don't delay and check out the preview now.
Ultra Distorted Noises, for A new generation of producers. If you're looking for a new range of tough sound fx and noises then you've found the right place. 'Ultra Distorted Noises' has shifted the perception of standard sound fx into a whole new realm. These distorted noises are blissfully good in a warped distorted kinda way. Clunky hits, alien refraction's, digital movements, spacious clicks and metallic falls make up just a few of the intense distorted hits. Once again these fantastically dark sound fx and hits lend themselves to an almost endless list of productions including music, game, tv, and film. Every sample will feel perfectly at home whether in gameplay, a movie fx timeline or a dark techno remix, which gives these ultra distorted noises 5 stars from us.
Ultra Distorted Hits takes your sampler on a magical ride through some of the finest and most up to date ultra hits and sound fx to date. The ultra distorted series is a wet dream for producers who want a catalogue of fresh and new exciting audio sounds. Each sample pack with the ultra distorted series has an exciting range of sound hits, glitches, tweaks, warped movements, drops, swells, slams, grinds and much more. Once again pushing the boundaries in sound design this awesome array is a stock set no producer should be without. It doesn't matter whether you produce electro, minimal, techno, dnb, breaks, trance or even psytrance, these ultra hits will fit perfectly into your music productions.
The Ultra Distorted sample pack (featuring 50 samples each) are available for download for $7.99 each.
More information: Zenhiser