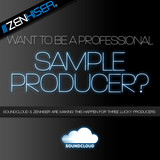 Zenhiser & Soundcloud have announced a Professional Sample Producer Competition.
All you need to do is submit your uniquely created samples to this Soundcloud group Want To Be A Professional Sample Producer. On January 1st 2010 the overall best samples will be picked and if those audio samples are yours then you'll be one of the lucky three joining the Zenhiser team and becoming a professional sound producer! If that wasn't good enough all three sample producers will be receiving a Pro Plus Account upgrade courtesy of Soundcloud and $250 worth of Zenhiser samples for you to choose from the extensive sample library at www.zenhiser.com

Competitions like this don't come around very often so get your skates on to become a professional sample producer.
More information: Zenhiser