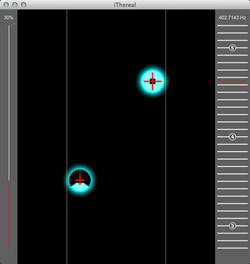 Zero Crossing has announced the release of iThereal, a the software Theremin for Mac OS X.
iThereal is a multi-touch trackpad controlled virtual Theremin. iThereal can be used to create music with a classic Theremin sound while staying true to a Theremin feel.

Play iThereal using any Mac compatible multi-touch trackpad including the Apple MagicPad. Add effects to your sound like Reverb, Distortion, and Vibrato. Use with MIDI hosting applications like GarageBand to incorporate an iThereal track into a musical composition. Presets for Logic Pro X Coming soon!

"We are excited for all the Theremin musicians out there, and musicians in general," explains James Knight, the president of Zero Crossing, the company that created iThereal. "Not only can they use iThereal for Mac OS X for live performances, but they will also be able to manipulate instruments in Garageband."

"Theremin users are going to really groove on the features of iThereal," says Lisa Cifaldi, head programmer at Zero Crossing. "For instance, they will be able to use Pitch Lock, which moves the pitch to the closest note, much like a Theremin player intones a note. They will be blown away by the many voices of iThereal, from the classic Theremin sound to a more elegant tone by adding Vibrato or Reverb, to unlimited choices by including the Distortion effect."

"This is an instrument in the true sense of the word and like any musical discipline it takes some practice to master its subtleties," says Keith Connelly, hardware designer at Zero Crossing. "iThereal for OSX can direct you to a well-tempered chromaticism by a very sophisticated interpretation of its special gesturing functions, should you choose to use them. The rewards are a feeling you've reinvented what it means to play a Theremin with almost unlimited possibilities."
iThereal for Mac is available for purchase at the Mac App Store for $4.99 USD. A version of iThereal for iOS is coming soon.
More information: iThereal