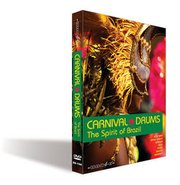 Zero-G has announced Carnival Drums, a sample library featuring 2000 samples (1.4Gb) of the main drums of the Brazilian Samba Baterias (samba percussion ensembles).
From the product page:
We gathered together 10 professional Brazilian percussionists who play each year at the Rio Carnival and we recorded them in a state of the art studio using close-mics, stereo overheads and distant stereo room mics to capture the pure exhilaration of the performances. And because each of the 10 drummers played the same drum and rhythm in unison, mixed loops with 6 different drum parts have the sound and force of 60 carnival drummers.
The library includes 1400 loops in four different mic positions as well as detailed multi-layered hits of all the drums in the most popular sampler formats so you can create your own rhythms to augment the loops.
Drums featured
Surdo de Primeira: This is the largest surdo (bass drum), the one that gives the crucial marcação [the second, stronger beat] to the samba—it's the base of the rhythm
Surdo de Segunda: This is the response to the surdo de primeira. It sustains the samba rhythm while the Surdo de Primeira is at rest and is its counterpoint. It is the middle-pitched Surdo Drum.
Surdo de Corte (Surdo de Terceira): A type of tuned floor-tom played with the hands, the highest of the three surdos.
Caixa: Pronounced 'kay-sha', a type of snare drum worn on a shoulder strap. Played in large ensembles, Caixa rolls blend together in a shuffling wall of energetic white noise. This is what gives character to the samba.
Repinique: Pronounced 'repineeki'. A two-headed tuned metal drum worn on a shoulder strap, played with either two sticks or one stick and a hand. The sound is like a very highly pitched timbale.
Tamborim: A small, high-tuned handheld drum with a very short, tight sound, in samba it is played with a bundle of nylon rods and is rapidly flipped around to create ghost notes.
Agogô: A hand-held two-bell instrument similar to a cowbell and played with a stick.
Timbal: A large floor-standing conical drum which is a bit like a conga but with a more deep and forceful sound.
Pandeiro: A large, deep tambourine played with the hand.
Despite the variety, the collection is built on 12 core rhythms.
There are three slower patterns (all typical of Salvador, and Bahia from NE Brazil) with a laid back groove:
Samba Reggae
Maxixe
Samba Rock
The others are all faster and typical of Rio de Janeiro: Axé, Samba Um, Dragões, Samba Dois, Samba Torcida Break Um, Samba Torcida Break Dois, Samba Tres, Samba Quatro and Samba Torcida Break Tres.
Carnival Drums should be shipping soon in a multiformat version (REX2, NNXT, NI Kontakt, HALion, EXS 24, Apple Loops, AIFF, ACID, .WAV) and will cost $159.95 USD / 119 Euro.
Visit Zero-G for more information and sound demos.