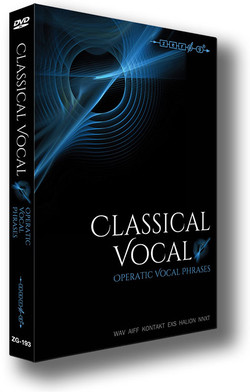 Zero-G has launched Classical Vocal – Operatic Vocal Phrases, a sample library featuring 1.2 GB of male and female operatic vocal phrases recorded in pristine 24bit audio at 48KHz.
Obtaining top-drawer classical vocal performances is an arduous undertaking so we have taken the strain out of this difficult process for you. We took two classically trained opera singers, both graduates of the world renowned Royal Northern College of Music (UK) with bucket-loads of concert experience between them and let them loose in a world class studio with some great microphones and state-of-the-art pre-amps!

Classical Vocal contains vocal lines from many renowned operas together with a wealth of improvised melodies. Phrases with and without lyrics are included. As well as over 600 phrases there are also multi-sampled single notes that have been mapped across the keyboard of your favourite sampler so you can make up your own melodies.

Voice ranges include baritone, tenor, soprano and mezzo soprano and languages used include Italian, French, German, Latin and even Russian.

The vocal performances are all sung with great power and passion and have been recorded completely dry, without any effects or compression, so that you do not lose any of the fine subtleties and inflections of the voice (Note: the demo phrases in the mp3 below have had reverb added, just for the demo).

Classical Vocal gives you a gateway into opera's grand world of soaring sopranos and breathtaking baritones.

As usual, all the samples in this Zero-G library are 100% royalty-free for your musical use without any additional licensing fees.
The sample library is available to purchase at a 20% introductory discount until October 31st, 2013.
More information:Zero-G / Classical Vocal – Operatic Vocal Phrases