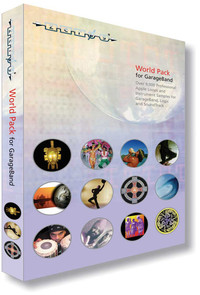 Zero-G has announced a time limited 'No Brainer' deal for its World Pack, offering 75% off the loop library.
It's our 21st anniversary year and we're celebrating with these occasional 'no brainer' deals. For one week only you can buy our massive WORLD PACK apple loop library for 75% less than the normal RRP! That's 5,900 apple loops for just $35.00 !! Offer ends Friday 6 July!

WORLD PACK brings together a vast amount of content from several of our previous sample collections – this time focusing on the diversity of world music. Over 5,900 loops contained in over 5GB of content are lined up from such collections as Afrolatin Slam, Deepest India, Middle Eastern Sounds, Sounds Of Polynesia, and Tribal Elements. One of the world's largest professional APPLE LOOP libraries, WORLD PACK has to be a First Choice library of loops for users of Logic Studio, Logic Express, Final Cut Pro, GarageBand and Soundtrack.
The World Pack is available for $35 USD until July 6th, 2012 (regular $150 USD).
Zero-G is also offering up to 50% off sample library downloads in its Summer Sale.
More information: Zero-G / World Pack