Time+Space has announced the release of Formation: Formant Sound Creator, a powerful new hybrid synth instrument by Zero-G.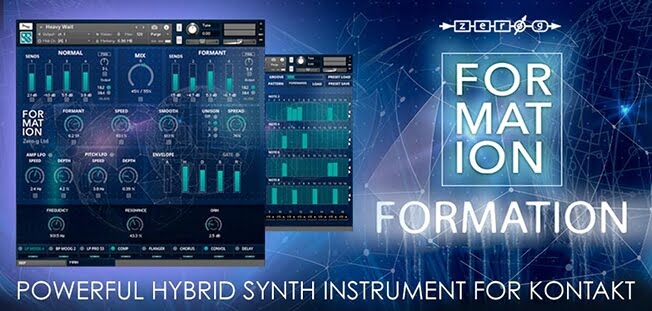 Zero-G FORMATION is a unique Kontakt instrument packed with over 250 amazing nki patches which include pads, atmospheres, synths and sfx with custom GUI controls and a state-of-art fully equipped arpeggiator. With sounds ranging from 80s-style synths to huge emotive atmospheres and beyond, Formation can be used for a range of musical styles and projects.

How does it work?
This flexible hybrid synth instrument allows you to play either the original sampled sounds or to use them as the source for whole new synthesised and modulated sounds. Formation adds a second processed voice to each instrument allowing you to manipulate the formant data in the voice to generate additional audio, like you would to create new sounds using oscillators in a synth, except Formation uses the sampled data from the instrument instead of an oscillator.

In addition to this, you can apply 4 different effects to the combined sound, and these four slots can contain any of a huge range of effects including filters, EQs, Chorus, Flanger, Convolution Reverbs and distortions.

Furthermore, you can send different amounts of each individual sound to 4 different Send effects and again, select from a range of different effects in each case. This adds yet more creative options to your final sound. There is also a huge amount of modulation options and the ability to add gating effects too.

Finally there is the ARP. Like no other arpeggiator around, the Formation ARP is powerful, original and quickly creates unique and compelling patterns.
Zero-G Formation: Formant Sound Creator is available at an introductory 20% discount until August 31st, 2016 (regular £55.95 GBP / 72.95 EUR).
More information: Time+Space / Formation: Formant Sound Creator