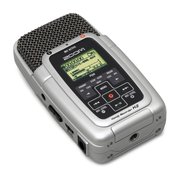 If you're into field recording you probably already know Zoom's next model, the H2 Handy Recorder, was supposed to be available already.
But… it's not shipping yet. Apparently there has been a slight delay because of a last minute improvement to the microphone design. So I am patiently awaiting the arrival of H4's kid brother.
When comparing the H4 with the H2 it's actually not so obvious one is better than the other. The H4 has phantom powered XLR inputs and 4 track recording, but the H2 has 4 mics (allowing 5.1 recording) and costs considerable less (plus it looks much better to me).
Here are some of H2's features:
W-XY mic patterns with 4 mic capsules and signal processing allows Front 90° cardioid, Rear 120° cardioid and 360° polar patterns
Built-in USB 2.0 interface for data storage and audio interface
Records in WAV 96kHz/48kHz/44.1kHz at 16-bit or 24-bit, MP3 to 320kbps and Variable Bit Rate (VBR) data formats
Time Stamp and Track Marker functions in Broadcast WAV Format (BWF)
512MB SD memory card included
Accommodates up to 4GB SD memory cards
Auto Gain Control (AGC) for pristine recordings
Auto Start function means you're always ready to record
Low-cut filter eliminates wind noise
On-board chromatic Guitar/Bass tuner
It's going to retail for $199 which seems very reasonable for this handsome looking recorder. Unfortunately we'll probably see a price of over 200 euros in Europe, but that's not going to stop me from getting one.
Link via CDM