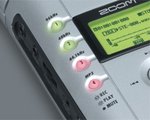 The firmware for the Zoom H4 Handy Recorder has been updated to version 2.0.
Changes in v2.0
Support for SDHC cards over 4GB
Adopted a larger display font to be easier to read
Indicates the battery capacity and recordable time at the top of the screen
Added a File Dividing function to create separate files for each song from a long-hours of live recording
Added a Low-Cut filter to reduce wind noise and breath popping
Added an MP3 post-encoding funciton which can convert recorded WAV files into MP3s
Added a Mono Mix function for the purpose of Electronic News Gathering
Added an Auto Recording function enables you to start recording automatically when the input signal exceeds a certain level
Added a Normalize function lets you increase the audio level of the recorded file at a maximum
Brad Linder says the software update does not solve the electric pulsing noise problem when you're running on battery power, so the best solution is still to build your own battery pack.
Visit Zoom's H4 download page for more information, links to download the lastest firmware and a supplemental manual.