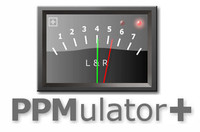 zplane.development has released version 3 of PPMulator, the metering plugin for Windows and Mac.
PPMulator is now available in two versions, the standard version for peak metering and the XL version for both peak and loudness metering.
Changes in PPMulator+ V3
True peak metering compliant to ITU-R BS.1770.
Real time logging of phase correlation.
Support for 64 bit platforms (VST Win, AU MacOS, stand-alone Win & MacOS).
Free upgrade for existing users.
Changes in PPMulator XL V3
Functionality of PPMulator.
Loudness metering compliant to EBU R128.
Real time logging of loudness (as well as peak and phase).
Offline batch logging for files.
Adjustable hold times for maximum peak and over.
Enhanced adjustment resolution for the reference level.
PPMulator+ is available to purchase for $99 USD/€79 EUR, PPMulator XL is $149 USD/€119 EUR. The upgrade from PPMulator+ 2.x to PPMulator+ 3.x is free, from PPMulator+ 3.x to PPMulator XL 3.x is $70 USD/€49 EUR.
More information: zplane.development