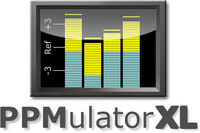 zplane.development has updated its PPMulator+ and PPMulator XL peak and loudness metering software to version 3.0.9.
PPMulator+ is a cross-platform plug-in meter for digital audio workstations which exactly mimics the look and feel of a professional broadcast Peak Programme Meter (PPM).

PPMulatorXL has all functions of PPMulator+ plus EBU R128 loudness metering and a lot of other improvements!
Changes in PPMulator+/PPMulator XL v3.0.9
[Windows] Fixed: crash/hang in wavelab that occured when you added, removed and re-inserted the plugin on the master channel.
[Mac] Fixed: standalone peak logging couldn't load wav files on ppc architecture.
Fixed: for loudness metering the individual logfiles didn't show the loudnes results (only the true-peak overloads).
Fixed: minor improvements to the loudness metering results int he peak logging tab.
PPMulator+ and PPMulatorXL for Windows and Mac (VST/AU/RTAS/Standalone) are available for 79 EUR and 119 EUR incl. VAT respectively.
More information: zplane.development