Zvork Audio has announced the release of LeSpace, a multi-echo Rack Extension for Propellerhead Reason.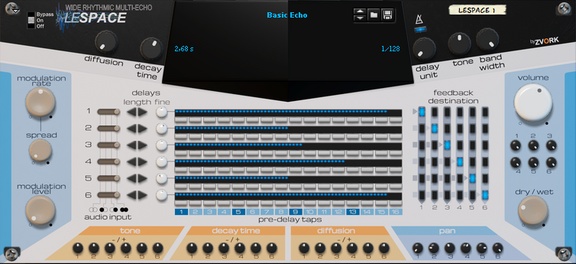 LeSpace is a delay-based effect with a particular emphasis on rhythmic multi-tap echoes and increased stereo width. With six individual delay lines, each with individual controls for pan, volume, decay, length diffusion and tone, a wide variety of effects can be programmed from simple echoes to reverbs and choruses. But most of all, LeSpace lets you create complex delay based rhythms that can enhance your leads or drum loops with a great sense of stereo space.

The device includes six parallel echo lines with independent tempo-synced or free-running delay lengths. Each echo line has 16 programmable delay taps easily programmable with a step sequencer like interface. Furthermore, band pass tone filters inside the feedback loops enable extra control along with separate pan, volume and diffusion.
The Rack Extension is available for purchase for 39 EUR / $49 USD.
More information: Zvork Audio / LeSpace