Zynaptiq has launched its Black Friday Sale, with discounts of up to 60% off selected plugins and bundles.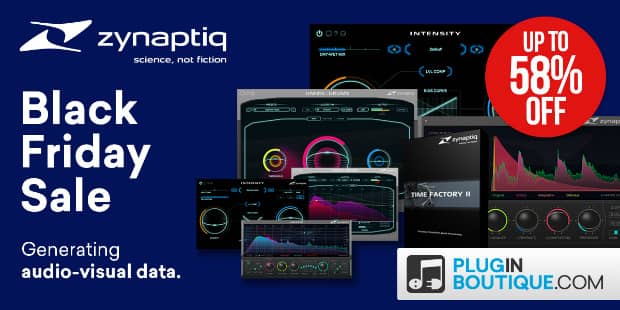 Zynaptiq creates technology and applications for processing, analyzing, categorizing and generating audio-visual data.
The sale includes:
INTENSITY, a new kind of audio processor for mixing, mastering and sound design. Built on techniques typically found in facial recognition algorithms, INTENSITY brings out a sound's inherent detail, increases its perceived loudness and density, and adds insane amounts of clarity.
UNMIX::DRUMS, the world's first audio plugin that allows attenuating or boosting drums in mixed music, in real-time. Using advanced source signal separation (a.k.a. de-mixing, unmixing, sound extraction, sound isolation) technology under the hood, UNMIX::DRUMS provides frequency dependent drum level control that ranges from up to +18dB of boost to virtually complete removal – while always sounding great.
UNFILTER, a real-time plug-in that removes filtering effects, such as comb filtering, resonance, or excessive equalization – effectively linearizing the frequency response of a signal automatically. UNFILTER can also apply a detected filter response to another signal, or export it to disk as an impulse response, and can even perform mastering grade adaptive, free-form, and graphic equalization.
The Master Bundle, which includes all three plugins, is on sale at Plugin for $409 USD (regular $599 USD).
The offer expires December 1st, 2018.
More information: Zynaptiq