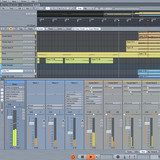 Zynewave has released Podium Free, the freeware edition of the music production software for Windows PC.
Podium Free is a fully functional freeware edition of Podium. It is identical to the commercial Podium version, except for a few limitations, and a small "Podium Free" logo.
Limitations of Podium Free compared to the commercial version
MIDI interface setup is limited to one input and one output.
64-bit mixer engine option is disabled.
Plugin multiprocessing is disabled.
ReWire is disabled.
Surround-sound playback is disabled.
The disabled plugin multiprocessing option means that only one CPU core will be used when processing plugins. If you have a dual-core CPU you will be able to use 50% of your available CPU power before the Podium CPU indicator overloads. Podium Free still uses all available CPU cores for various tasks such as GUI updates and disk streaming.
These limitations may change in newer releases of Podium Free. It will depend on new features added to Podium, and the general user response to Podium Free.
More information: Zynewave