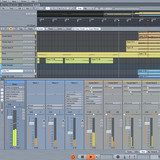 Zynewave has released version 2.35 of Podium, a professional music production software for Windows.
MIDI files can be auditioned in the browser, and dragged onto the note editor. The Insert key can duplicate a multiple event selection. Improved realtime bounce recording.
Changes in Podium 2.35
MIDI files can be auditioned in the browser. The MIDI file will play on the focus track, at the tempo of the arrangement. If the arrangement is playing, the "audition on bar start" option will sync the MIDI file to the arrangement.
MIDI files can be dragged directly onto the note editor timeline. This will insert the notes from the MIDI file at the mouse cursor timeline and root note position. All inserted notes will be transposed to use the new root note. Holding the Alt key will drop the notes without changing the root note.
Added "Export Selection to MIDI File" command to the File menu in note and curve editors.
When dropping a MIDI file or a sequence object onto a track, the end of the new sequence event will be snapped up to the next grid line.
Importing a MIDI file to a track will use the filename for the new sequence if the MIDI file contains a blank track name.
Pressing the Insert key in the arrangement and note editor now supports duplicating a multiple event selection. If snap is enabled, the duplicated events will be snapped relative to the next grid line. Pressing Shift+Insert will override snap. Pressing Ctrl+Insert will snap to next bar.
Realtime bounce recording mode now automatically creates the sound events for the recording.
Realtime bounce recording is no longer limited to the length of the arrangement. It will continue to record until stop is pressed.
Made a minor design change to the browser menu buttons.
Fix: The "Transform to Spline Curve" command did not properly handle cases where there were deselected events within the range of selected events.
Updated "Toolbars", "Sliding & Zooming", "Recording", "Preferences" and "Colors" chapters in the Podium guide.
Podium is available to purchase for Windows PC, priced at $50 USD. A demo version can be downloaded from the Zynewave website. Podium Free was also updated, to version 2.33.
More information: Zynewave