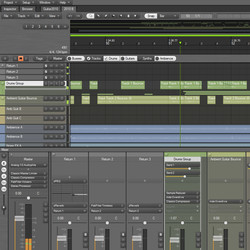 Zynewave has released version 3.2.1 of Podium Free, a free music production software for Windows.
Podium is a modern digital audio workstation (DAW) for Windows. It supports recording and editing of audio and MIDI, and hosts VST instrument and effect plugins.

Podium Free is a freeware edition of Podium. It is fully functional with only a few feature limitations. Download and installation does not require registration.
Changes in Podium Free v3.2.1
Podium Free is available as both 64-bit (x64) and 32-bit (x86) builds.
Support for Unicode file names and text input.
New "Control Surfaces" page in the Audio/MIDI setup dialog. Up to eight Mackie Control compatible devices can be configured.
Support for jBridge x86/x64 VST plugin wrapper.
The installer allows specifying separate installation paths for Podium Free and the bundled Zynewave plugins.
The installer includes an updated Podium Guide html document. Selecting context help in Podium will open this document instead of opening the online guide on the Zynewave website.
Included a new Podium Release History html document that can be opened from the Podium Help menu.
Reorganized the edit menu. Inactive menu commands that were previously hidden are now shown as grayed out, to make the appearance of the edit menu more consistent.
Added several new edit menu commands to the note, curve and arrangement editors. Some of the commands open dialogs for adjusting velocities, transposition, curve points and sound events.
Added several new mouse edit shortcuts to the velocity region. The shortcuts are listed in the popup help for the note velocity mode buttons.
Support for mice with 4-way scroll wheel.
Various bug fixes and minor improvements.
Podium Free is available to download for Windows.
More information: Zynewave / Podium Free