A.O.M. Factory updates effect plugins to v1.3.1 + Mac OSX AU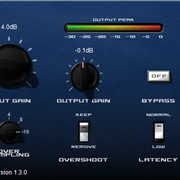 A.O.M. Factory has released version 1.3.1 of its Invisible Limiter, Stereo Imager D, and Wave Shredder effect plug-ins.
A.O.M. Factory offers professional audio plug-ins. Our goal is to provide simple and effective gears for audio and music production.
Changes in A.O.M plugins v1.3.1
Support for AudioUnit format on Mac OS X.
Bug fix: Crash when plug-in window is rapidly switched.
Bug fix: GUI doesn't follow parameter change from automation.
Invisible Limiter and Wave Shredder are available to purchase for $38 USD each, Stereo Imager D is $28 USD.
More information: A.O.M. Factory