Audiostry releases Arpærus arpeggiator for Reaktor
Audiostry has introduced Arpærus, an arp ensemble for Native Instruments Reaktor.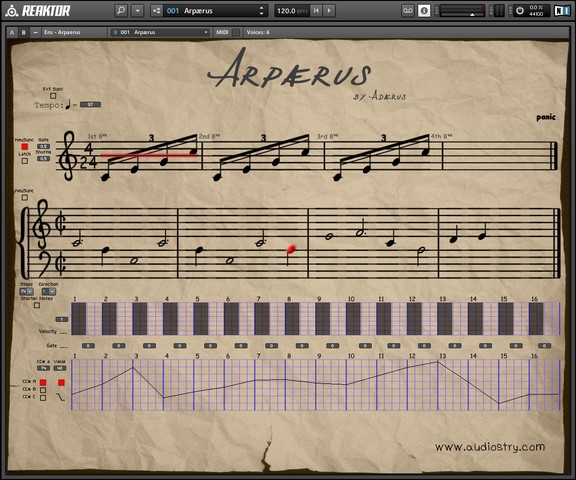 Classic arpeggiator with classic 16 modulation step sequencer to control MIDI devices in Reaktor (contains no audio engine).
Arpærus features
Arpeggiator:

6 patterns: >, < , <>, < <>>, random, trigger
Up to 4 octaves transpositions

Modulation Sequencer modulates:

4 running modes: >, < , <>, < <>>.
Pitch (4 octaves – 2 up and 2 down). Musical Notation GUI.
Note length. Musical Notation GUI.
Velocity.
Gate.
Three assignable MIDI CC# lines.

Variable number of steps up to 16.
Arpærus costs $5 USD. Requires Reaktor 5 or higher full version. A demo version with stripped down features is available to download at no cost.