Novation introduces Launchkey keyboard controller series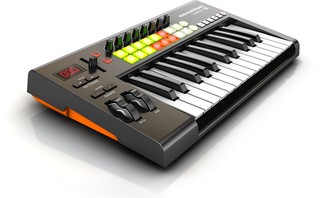 Novation has announced Launchkey, a new series of keyboard controllers.
Launchkey is a range of 25, 49 and 61 note keyboard controllers with up to 50 physical controls including 16 velocity-sensitive multi-colour trigger-pads that launch clips and scenes in Ableton Live.

As well as enabling hands-on control of your DAW's mixer, instruments and more, Launchkey is an integrated software/hardware instrument. The control surface has been designed to work tightly alongside two intuitive apps for iPad: the Launckey app and the Launchpad app* – plus the powerful V-Station & Bass Station synth plug-ins for Mac and Windows.
LaunchKey features
Create – Integrated software/hardware instrument with apps for Mac, PC and iPad – Launchkey comes with a brand new Launchkey app and Launchpad apps for iPad and the powerful Novation V-Station and Bass Station synth plug-ins for Mac and PC.
Control – 'InControl' technology connects hardware controls directly to all major DAWs – Quick, hands-on control of your mixer, transport and more in Ableton, FL Studio, Pro Tools, Reason, Cubase and Logic.
Launch – 16 velocity-sensitive multi-colour launch pads – Two rows of launch pads for playing and sketching out drum beats, or launching and improvising with loops using the Launchpad app – they also launch clips and scenes in Ableton Live.
Play – Professional synth-styled keyboard with over 50 hardware controls – Synth-styled velocity-sensitive keyboard with precision accuracy and fast action – software control via 50 faders, knobs, pads and buttons (35 on 25-note version).
DAW Control – Instant access to major DAW control parameters – with no assignment necessary.
Bus powered – no PSU required – Launchkey is fully bus-powered, even with iPad. Just plug it in and go, with no power supply or batteries.
One gigabyte Loopmasters sample pack – Launchkey includes one gigabyte of Loopmasters sample content including artist packs, drum samples and sound FX.
Ableton Live Lite – Ableton's ground-breaking performance and production software is included with Launchkey.
The Launchkey will be available in March (49) and April (25/61).
Launchkey 25: £99.99 incl. VAT / MSRP $189.99 ($149.99 at dealers)
Launchkey 49: £139.99 incl. VAT / MSRP $249.99 ($199.99 at dealers)
Launchkey 61: £159.99 incl. VAT / MSRP $299.99 ($249.99 at dealers)