Novation UltraNova, synthesizer with built-in vocoder
Novation has announced the UltraNova, the new generation of Novation's iconic 'Nova' range of synthesizers, packing the massive 'Nova' sound into a compact body with a built-in vocoder.
UltraNova is a 'Nova' series analogue-modelling synthesizer with a powerful effects processor. It is a single-part synth taking the legendary Supernova II synth engine as a starting point and packing it with the latest technology. It now has brand new features including wavetable synthesis, even more powerful filters, a software editor and a revolutionary new touch-sense performance mode.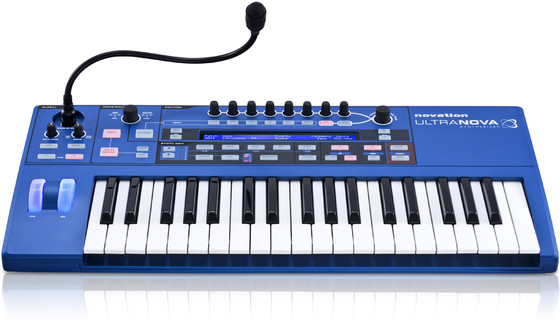 UltraNova features
Brand new Nova-series synth engine based on Supernova II

Single part with up to 18 voices, 14 filter types, 36 wavetables, 5 effect slots
Patch Browse enables you to browse 300 sounds by type & genre

Touch-sense controls enable totally new sound-shaping & performance

Trigger envelopes/LFOs/filters/FX by just touching the encoders
Large rotary control instantly allows you fine control of any parameter

Totally gig-able with 37 full sized keys, a vocoder, and loads of controls

Voice optimized 12 band vocoder with gooseneck mic
High quality key bed with aftertouch for expressive playing styles

Software plug-in editor and Patch Librarian for full visual editing

Plug-in editor allows you to view and edit in with software
Software Patch Librarian a organise, store and share unlimited patches

Built-in 2 in 4 out USB audio interface and it can be bus powered

UltraNova can be used to stream audio to and from a host computer
Stereo main (analogue & SPDIF) and aux outputs, and MIDI in/out/thru ports