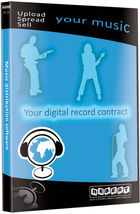 Are you looking to publish your songs online but you are not sure how? Then REBEAT may have just what you need.
Music distribution company REBEAT has released REBEAT Digital, a software allowing every musician, producer or label to sell songs digitally worldwide.
The REBEAT digital software allows you to sell and promote your music digitally in more than 300 download stores, among them iTunes, Musicload, Napster, AOL, Nokia and many more – easy and with only a few clicks directly from your home or office computer!
REBEAT Digital features
85% of the revenues remain yours.
Export of your music to currently more than 300 shops worldwide.
Encoding of your music into all required formats.
Correct worldwide handling of the mechanical royalties processing.
Monthly download reports and accounting.
EAN/UPC and ISRC codes available for purchase, directly in the software on demand.
Free automatic updates.
Free support.
No limits in time and quantity for uploads.
Promotion of your product with the Promotion Tool and the integrated Media Promotion Service.
You can find detailed information about REBEAT Digital here (.pdf)
REBEAT Digital is available for PC and Mac, for 99 EUR. Additional costs for releasing music are EUR 1 per song (no additional monthly or yearly fees).
More information: REBEAT Digital
Publish 3 songs free of charge
rekkerd.org is pleased to offer a promotional code that will allow you to release 3 songs with the REBEAT Digital software, completely free of charge.
Are you ready to publish your songs in over 300 stores worldwide? Just follow these instructions and use this promo code: 87E651645F
Happy publishing!