00Laboratories has announced the AG-20 Fingerpicked Acoustic Guitar, a virtual instrument featuring the sounds of a Richwood A-20 acoustic guitar.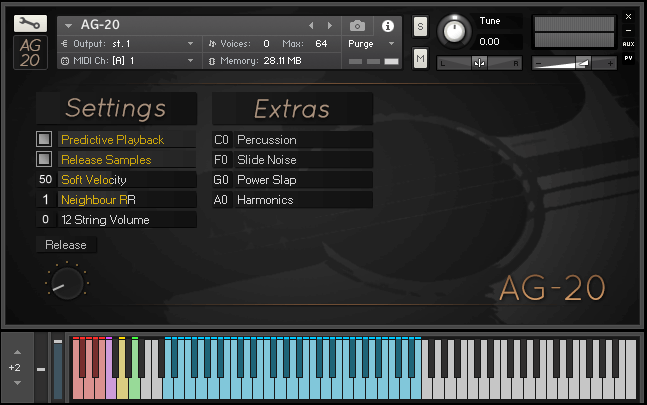 The instrument features Predictive Playback, which adds 25ms audio delay in order to analyze MIDI notes. If a Major 3rd, Minor 3rd, 4th or 5th interval is played on the D string and above, a real sample of that interval will be played instead of two individual notes.
Fingerpicked Acoustic Guitar features
Sampled note range: D1 to E4, 497 samples in total.
Soft and hard dynamics for every note and interval.
5 percussion samples with 6 round robins each.
Chord change/sliding noise with 21 round robins.
Power chord slaps from D1 to D2 with both soft and hard dynamic layers and 2 round robins.
Release samples for every note with 2 round robins (release samples can only trigger if release time is set to 250ms or lower).
Harmonics in range D2 to G4 with 2 round robins.
12-string guitar simulation mode, in octaves up to the high E string (it then turns into unison).
The AG-20 virtual guitar is on sale for the intro price of $5 USD until March 15th (regular $9.99 USD). It is available as a VST plugin as well as in Kontakt 5 and HISE sampler formats.
More information: 00Laboratories