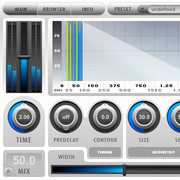 2CAudio has released version 1.1 of Breeze, an algorithmic reverb effect for Windows and Mac.
Breeze is Aether's pristine eco-conscious cousin. Breeze focuses on simplicity, efficiency, and economy. Additionally it offers several of its own exciting new features that have not been offered previously and make it fufill a special need in the market.
Changes in Breeze v1.1
Over 100 new factory presets.
Redesigned and expanded EQ and Damping scheme offering 5 new filter options for each: High Shelf, High Cut, Low Shelf, Low Cut, Off.
Filter options are independent for Both Damping and EQ and can be configured in 25 different ways providing much more flexibility to the tonal characteristics of the reverb.
"Off" filter mode provides additional CPU efficiency of up to 5-10% savings.
Infinite reverb time mode.
Substantial enhancements to the diversity achievable within the range of existing parameter settings. The behavior and effect of some parameters has been enhanced in various ways that unfortunately can not be fully described do to trade-secrets. Suffice to say the result is improved preset diversity and augmented audio quality. Consider it a tune-up to certain aspects of the algorithm.
Improved GUI controls response.
Improved Novation auto-map compatibility.
Breeze for Windows and Mac (VST/AU/RTAS) is available to purchase for $149 USD.