2nd Sense Audio has announced the release of ReSample, a sharpened tool aimed to edit, process and analyze audio, with a distinctive modern UI, powerful built-in processors and MacBook Pro Touch Bar support.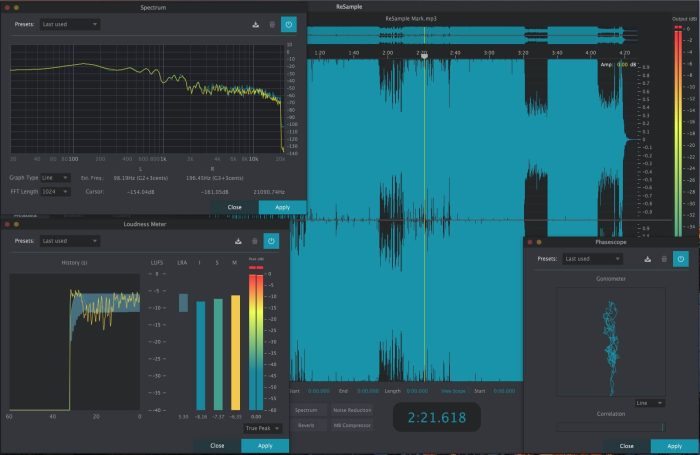 ReSample offers smooth waveform browsing and editing, straightforward and effective removal or extraction for center vocal sound, time stretch and pitch shift with real time preview, multiband compression, a loudness meter (ITU-R BS.1770-2 and EBU R128 compliant), and much more.
ReSample features
Display overview of a sound file on Touch Bar. Touch to move playhead with ease. (for MacBook Pro with Touch Bar).
Smooth waveform browsing and editing. Responsive zooming and selecting through multi-touch trackpad or mouse.
Easy and fluent recording process.
Spectrogram browsing.
Direct view and precise adjustment at sample-level.
Remove/Extract center vocal sound in one mouse click.
Apply compressing/expanding effect to a specific frequency band.
Sample-based noise reduction processor.
Ship with over 20 factory audio processors/effects: Parametric Equalizer, Vocal removal, Time stretch and Pitch shift, Reverb, Noise reduction, Engineering filter, etc.
Stable and fast high-order engineering filter. (Up to 100th order stable for Butterworth lowpass).
Real time spectrum with frequency estimation.
Easy-to-use equalizer with real time spectrum display.
Straightforward and customizable fade curve.
Free-drawing Doppler effect.
High quality and high fidelity sample rate conversion.
Support Mac and Windows. Support ASIO on Windows.
Support multiple codecs and formats: PCM (.wav, .aif), FLAC (.flac), VORBIS (.ogg), MP3 (.mp3), AAC (.m4a, Mac only).
Support VST and AudioUnit effects plug-ins: VST on Windows, AudioUnit and VST on Mac.
ReSample for Windows and Mac is available for purchase for $89 USD. The software has a 25-day fully functional demo period.
More information: 2nd Sense Audio / ReSample